---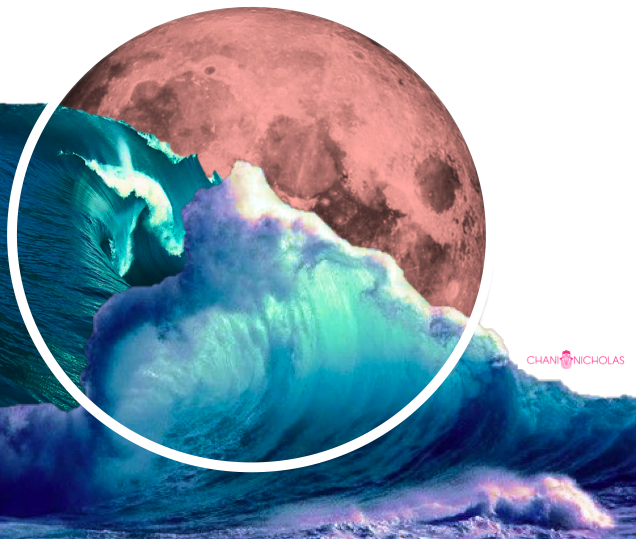 Moon Rhythms
Ahhh, the power of the full moon. The abundance of energy. The bright nights and wild spirits. Almost everyone can feel the effects of the moon when it's full, but what about the other 28 days? Living in synch with the entire cycle of the moon takes a heightened sensitivity and awareness, or a closer tie to your feminine nature.  I find that coming into a deeper connection with the rhythms and qualities of the moon phases has an enriching impact on my physical, mental, emotional and energetic self. It's also a natural way to live in synch with the earth, cosmos, and menstrual cycle.
.
As the new moon begins, the night is at its darkest. With this darkness comes a time to turn inward and connect with intuition. This is also the natural time for the body to shed its inner layers and menstruate. As my period starts, I find it best to have an entire day to myself, if possible, to pamper, retreat, and rest. Extra relaxation and nourishment helps to build up strength, health and immunity for the coming month. It creates a grounding base and cushion for the stress and challenges of everyday life.
.
During this time, digestion is usually weaker and a bit sensitive. Accordingly, it's better to enjoy easily digestible food that is light, cooked, and more watery in nature. Soups, stews, fruit and cooked grains are best. Processed food, salty, heavy, greasy or spicy foods are better to be avoided. Taking ginger, mint, fennel, cumin or coriander as a tea or added to a meal can  help digestion. Lots of hot water and tea assist with the flowing and eliminating process.
.
With the crescent moon, the light is slowly increasing and waxing towards full. Now is a time to set  intentions for the future. Plan for what lies ahead and what you would like to accomplish or manifest.
.
As the moon and the light of the night grows, energy and abundance grows. Now is the time to put more of our outgoing selves into sociable and physical activities. We can take on more projects, physical challenges, and indulge in richer foods. While we ovulate, we're ready  to connect and receive with our intimate partners. A brighter night sky inspires to dance and stay up late, celebrate, and maybe go camping and have a bonfire.  As the oceans are drawn to be full toward the moon, so are the watery aspects in our bodies and emotions. We are full of energy and abundance. We feel alluring and radiant.
.
While the moon wanes from full to disseminating and last quarter, we can slowly start to let go and settle down. The balsamic moon, which happens 72 hours before the new moon, encourages us to let go and release everything in preparation of the deep stillness and rest of the dark new moon.
.
For me, part of syncing with these gentle aspects of our feminine nature comes in an understanding of the lunar qualities:  soft, cool, receiving, cloudy, static, dense, watery, and flowing. By recognizing that these slow, quiet, reflective and introverted pauses in our life can have a positive effect on our over-all well being, we can give them greater appreciation and positive acknowledgment. These dark, inward moments allow us to expand and flourish on a stronger and deeper level when the time comes.
.
I hope that together we can all learn to live  gracefully and at ease. To support and comfort when it's time, or go wild and celebrate. No matter the phase in the cycle, may we be in love, health and happiness together.